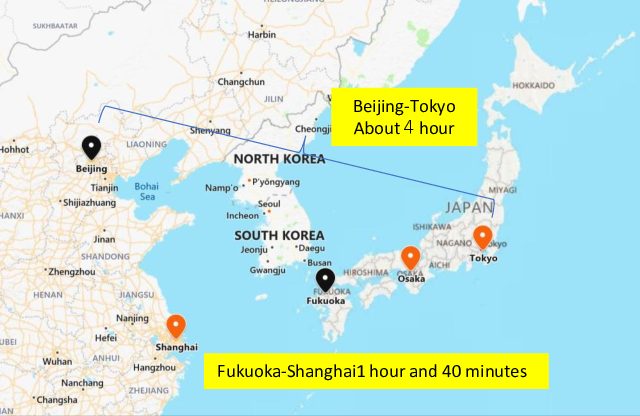 Differences Between Japan and China
| | | | |
| --- | --- | --- | --- |
| | Area | Population | Population density |
| China | 9,596,960km² | Aprx. 1.3 billion | Aprx. 145 people per 1km2 |
| Japan | 377,914km² | Aprx. 120 million | Aprx. 335 people per 1km2 |
Japan is a very densely populated country.
China's population is about 10 times that of Japan, but its land area is about 25 times.Japan is a very densely populated country.
In both China and Japan, the population is concentrated in cities.
| | | | |
| --- | --- | --- | --- |
| | Toyko | Osaka | Fukuoka |
| Beijing | Around 4 hours | Around 3.5 hours | Around 4 hours |
| Shanghai | Around 3.5 hours | Around 2.5 hours | Around 1 hour and 40 minutes |
Japan and China are next to each other, and Japanese culture has been deeply influenced by China in the past, but now they are very different in many ways.
Unique historic, political, the size, their allies, foreign economic partners and social features.
The biggest difference between Japan and China is their personality. In China, bribery is a matter of course in all aspects of life, business and school. And Japanese dislike it.
Chinese people assert their opinions, but Japanese people tend to hide their intentions.
| | | | |
| --- | --- | --- | --- |
| | Formal wear | Meal | castle |
| China | | | |
| Japan | | | |
Although China is one of the largest communist countries in the world, that has been pursuing an economic open policy since 1978, and many foreign-affiliated companies are actively expanding.
China is the world's largest economy after the United States, It is not only called a "factory of the world" but also has world-class technology in the field of IT.
In the past, Japan was heavily influenced by Chinese culture, but Japan's culture is unlike any other. After the defeat of the World War, Japan became an economic powerhouse with high quality and technology in the manufacturing industry. For example, Toyota, Hitachi, and Sony are global Japanese manufacturers.
No country is as safe as Japan.
| | | | |
| --- | --- | --- | --- |
| | Minimum wage (month) | Average annual income | GDP |
| Beijing | 316.88 USD | 15,506.93 USD | $ 13.407 trillion |
| Tokyo | 1,459.64 USD | 56,737.11 USD | $ 4.971 trillion |
Although both countries are economic powers, Japan is characterized by a large middle class, China has a large gap between rich and poor.
This is affecting security.
For example, in Japan children go to elementary school on their own, but in China they often need to be picked up. (Of course, it's not just security, but the main reason is security.)
It is special that Japan's security is good, so it does not mean that China's security is bad compared to the world.
It is regrettable that China's security has deteriorated with economic growth. (In the past, China was as safe as Japan.)
The Chinese companies continues to grow.
| | The Top 10 | Country |
| --- | --- | --- |
| 1 | Walmart | USA |
| 2 | Sinopec Group | China |
| 3 | Royal Dutch Shell | Dutch |
| 4 | China National Petroleum | China |
| 5 | State Grid | China |
| 6 | Saudi Aramco | Saudi Arabia |
| 7 | BP | UK |
| 8 | Exxon Mobil | USA |
| 9 | Volkswagen | Germany |
| 10 | Toyota Motor | Japan |
For the first time in 2019, China has more companies than the United States on the Fortune Global 500. (A total of 129 companies, including 10 from Taiwan, were ranked)
China had just 46 companies appearing on the list in 2010
The top 12 Chinese companies are all state-owned.
Xiaomi, founded in 10 years, was listed as the youngest company.
The number of privatized companies has increased since Lenovo first ranked as a privatized company in 2008
Japanese companies ranked 52, of which 22 were manufacturing companies.
(Toyota, Honda Motor, Nissan, Hitachi, Sony, Panasonic, Nippon Steel, Denso, Mitsubishi Electric, Mitsubishi Heavy Industries,)
Factory
| | Overview | future |
| --- | --- | --- |
| China | China has built a "world factory" with abundant labor, but faces many challenges, including rising wages, living expenses, real estate prices, and environmental issues. | Factories have moved from China to neighboring countries such as Vietnam and Cambodia.China will be a world leader in advanced fields such as artificial intelligence (AI), blockchain, biotechnology, and aviation. |
| Japan | About 70% of the small and medium-sized factories with less than 300 employees work at 99%, but the production value is half. | In order to protect employment and transmission of technology, the government has a policy of leaving factories in Japan as much as possible. |
How to solve problems in factories in both countries
Many Chinese factories are large-scale factories, while Japanese factories are small in scale but produce many types.
When Chinese managers visiting Japanese factories, they are amazed by the diligence of the workers, the cleanliness of the site, the care of the machinery and the use of the same machinery for decades.
Therefore, the size of the factory is larger in China, but they repeatedly visit the Japanese factory to learn TPS and the Japanese way of thinking.
| | Factor | Measures | Afterwards |
| --- | --- | --- | --- |
| China | The staff who broke the rules is bad | Penalize staff | Repeated |
| Japan | Poor rules or environment | Change rules and environment to simple | Will not be repeated |
According to consultants who have experience of improving at factories in Japan and China,
Chinese factories already have too many rules for production, quality and safety. Maybe it's more than in Japan.However, despite such rules, many quality accidents and work-related accidents occur.The rules are set to protect the company from penalties.In Japan, when an accident occurs, we look for the cause of the rule being broken, but in China it means that the staff who did not follow the rule is bad.
For this reason, China tends to hide the real cause without pursuing the cause of the accident.
Super Aging Society
What Japan and China have in common is the aging society. The aging of Japan and China is accelerating due to various factors such as longer life expectancy, late marriage, the gap between rich and poor, and declining birthrate.
Especially in China, the world's largest population, has implemented "The one child policy" for 36 years.
Rather than having many companies listed on the Fortune Global 500, Chinese are worried about the serious aging society and are looking for an immediate solution.
Expansion of places where women and aging workers can job
Rapid growth in the elderly market
Active recruitment of foreigners in advanced technology fields
Until now, women and Aging workers were not working at construction sites in Japan, but the construction industry is rapidly changing to workable systems.Foreign workers who have refused are also adding laws temporarily and actively adopting them.
Recommended tours for bench marketing in China and Japan
※Educational Travel – Japan and China –
※Asia benchmarking tour – Tokyo and Beijing